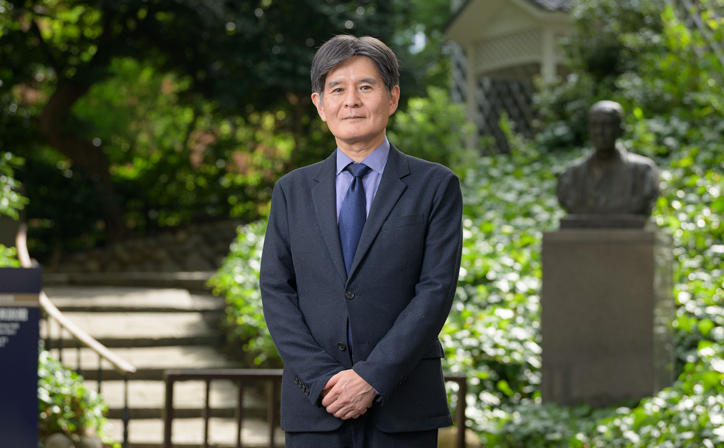 The Faculty of Letters at Keio University departs from the typical university faculty of literature. We interpret the "Letters" in our name to mean something much broader as a knowledge of art and science that spans the whole of academic pursuits. It encompasses a diverse array of fields, extending beyond the conventional domains of literature and linguistics, which are typically associated with a faculty of letters or literature, and embraces the spectrum of the humanities, social sciences, and even the natural sciences. This is the most distinguishing feature of Keio University's Faculty of Letters.
Today, university research and education at home and abroad are organized around modern Western science, which can be traced back to Greek philosophy and a monotheistic worldview. One of the key features of this model of research and education is the emphasis on specialization achieved through the categorization of phenomena. Consequently, it's possible that some individuals might view our all-encompassing faculty as somewhat nebulous and challenging to define, lacking clear-cut boundaries. However, it cannot be denied that, at present, existing academic specializations have reached an impasse.
For instance, modern Western science distinguishes between zoology, the study of animals, and anthropology, the study of humans. Behind this lies a dichotomous way of thinking that juxtaposes animals and humans, nature and culture. But in truth, they are all inseparably intertwined, exerting mutual influence upon each other, rendering them subjects that demand holistic examination and research. Our species also possesses a particular sensitivity and fluid intelligence that sees connections between different events, just as we see with the indigenous peoples of the Northwest Coast of North America, who associate their origins with animals.
Given that nearly every phenomenon in this world presents a web of intricate interrelations between living and non-living entities, we must awaken a fluid intelligence capable of discerning the connections that exist among seemingly disparate entities and events. Keio University's Faculty of Letters prides itself on fostering not only specialized knowledge but also holistic wisdom, with frequent interdisciplinary dialogues and discussions that encompass a wide range of academic disciplines. Within the liberal academic culture that cherishes the Keio concept of hangaku-hankyo, or "learning while teaching, teaching while learning," students in our faculty can expect to hone their expertise while simultaneously fostering a multi-dimensional and inclusive outlook.
Academic Freedom Across 5 Disciplines,
17 Specializations & 2 Divisions
The Faculty of Letters at Keio University has one department, the Department of Humanities and Social Science. Within it are five academic divisions and 17 majors:
 ● Philosophy (Majors in Philosophy, Ethics, and Aesthetics and Science of Arts);
 ● History (Japanese History, Asian History, Western History, and Archaeology and Ethnology);
 ● Literature (Japanese Literature, Chinese Literature, English and American Literature, German Literature, and French Literature);
 ● Library and Information Science (Library and Information Science); and
 ● Studies of Human Relations (Sociology, Education, Psychology, Human Sciences).
The faculty also has two courses: Natural Sciences and Foreign Languages; as well as two affiliated graduate schools: the Graduate School of Letters and the Graduate School of Human Relations. There are over 150 full-time faculty members at the Faculty of Letters, making it the third-largest undergraduate faculty at Keio, after the Faculty of Science and Engineering and the School of Medicine. Each faculty member actively engages in original research, achieving recognition in their respective fields in Japan and internationally.
The Faculty of Letters has a capacity of 800 students per academic year. First-year students enroll without committing to a particular major, commencing their studies at the expansive Hiyoshi Campus. There, they can explore a wide array of academic fields, broaden their intellectual horizons, and master the language skills that form the bedrock of knowledge. From the second year onward, students choose one of the 17 specializations at the historic Mita Campus, where they begin to engage in specialized research. Many of the courses offered at Mita Campus, including seminar classes, are conducted in small groups—another distinguishing feature of our faculty—to ensure that close bonds are built between faculty members and students, as well as among students themselves.
Tradition & Innovation at the Faculty of Letters
The phrase jiga sakko (自我作古), coined by Keio founder Yukichi Fukuzawa, roughly translates to "creating history to define the future" and remains a cornerstone of Keio University's core values to this day. Fukuzawa urged us to face any challenge or adversity with courage and a sense of duty, encouraging us to venture into uncharted territory and blaze new trails.
Today, we find ourselves confronted with a multitude of challenges that cannot be adequately addressed using conventional knowledge and frameworks. These challenges include the degradation of the global environment, the relentless march of globalization that transcends national and regional boundaries, and the emergence of novel social dilemmas with the advancement of AI. The COVID-19 pandemic is still fresh in our minds, which restricted face-to-face activities, and we can never be certain about what environmental and social changes may unfold in the future. In times like these, we must equip ourselves with a holistic understanding of humanity, society, and the natural world alongside our capacity for both logical and adaptable thinking.
The Faculty of Letters at Keio University, with its many diverse disciplines addressing people, society, and nature from the past to the present, also aims to deconstruct established academic paradigms. We are confident in our ability to offer the knowledge and capabilities required to take on the challenges of turbulent times. In this regard, our faculty, with a history dating back over 130 years to its establishment in 1890, can be considered both rooted in tradition and marked by a spirit of innovation.