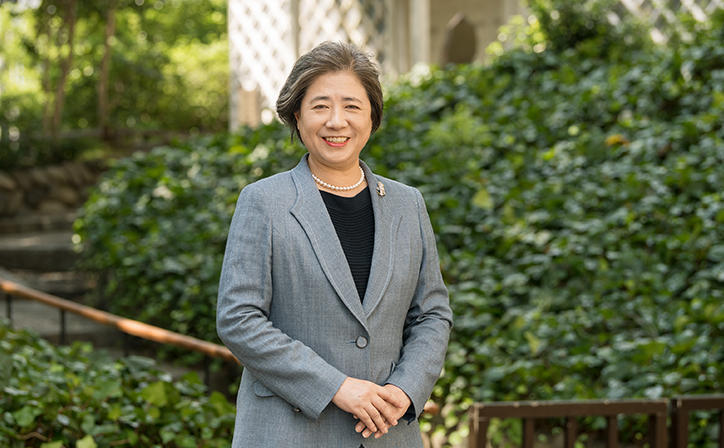 The Expansive Intellectual Terrain at the
Faculty of Letters
Have you ever heard of the Republic of Letters? It refers to a European intellectual community in the 16th through 18th centuries that transcended national boundaries to establish new knowledge systems and develop many of the arts, academic, and scientific disciplines that we know today. "Letters" here refers to the letters of language, of course, but it also denotes the whole of learning, which is much broader than the literary arts alone. Similarly, the "letters" at the Faculty of Letters at Keio University are not limited to prose, poetry, or other literary forms. The word refers to a body of knowledge that encompasses a wide range of academic disciplines that includes the arts and sciences.
The study of literature, language, and the arts—all symbolic achievements of human culture—is an indispensable element of the Faculty of Letters. However, our field of intellectual inquiry does not stop there. The focus of our research extends to all areas of humanity, society, and nature: the pursuit of philosophical wisdom related to truth, virtue, and beauty; historical inquiry into humankind and its future; the development of theories and technologies for the preservation and utilization of knowledge and information; the study of the structures and functions of society as well as the scientific verification of the minds, behaviors, and makeup of its people; and commentary on the interaction between humans and the natural environment, which that forms the basis for culture creation. It covers numerous fields around the world, across civilizations, societies, environments, and human beings themselves.
5 Disciplines, 17 Majors & 2 Divisions Across
the Humanities & Social Sciences
While the Keio University Faculty of Letters has just one department—the Department of Humanities and Social Sciences— we have seventeen majors across five disciplines. These include:
 ● Philosophy: Philosophy, Ethics, Aesthetics and Art History;
 ● History: Japanese History, Oriental History, European History, Ethnology and Archaeology;
 ● Literature: Japanese Literature, Chinese Literature, English Literature, German Literature,
  French Literature;
 ● Library and Information Science: Library and Information Science; and
 ● Human Relations: Sociology, Psychology, and Education.
It also consists of two independent divisions: Natural Sciences and Foreign Languages. Our faculty also has two affiliated graduate schools: the Graduate School of Letters and the Graduate School of Human Relations.
With more than 150 full-time faculty members, it is the third-largest faculty at Keio after the Faculty of Science and Technology and the School of Medicine. The academic faculty here are engaged in original research whose findings in specialized fields have far-reaching implications both at home and abroad.
All 800 first-year students at the Faculty of Letters are admitted before choosing a specific major. In their first year, students grapple with all kinds of academic fields in a lively, youthful environment at leafy Hiyoshi Campus. Here students are able to experience a rich and diverse education and master the language skills that form the foundations of knowledge. In their first year, these newest members of the university community expand their worldview in many ways—personally, socially, and intellectually.
From their second year onward, students belong to one of the seventeen majors at the historic Mita Campus , where they advance into more profound and specialized areas of study. One of the distinctive features of an education at the Faculty of Letters values is small group teaching. For many of the courses offered at Mita, including seminars and workshops, class sizes are small, allowing students to grow through close relationships with faculty members and friendly competition with fellow peers.
On Our New Republic of Letters & Creating History to Define the Future
Yukichi Fukuzawa coined the four-character idiomatic phrase jigasakko (自我作古), which loosely translates to "creating history to define the future." It expresses a strong desire to take on the challenge of new, unexplored fields to forge new ways forward, despite the trials and tribulations that may lie ahead. We are now, in many ways, amidst a time of monumental change. A great many challenges face our world today—from the globalization of society to the rapid pace of digitalization—many of which cannot be solved through conventional ways of thinking. No one could have predicted that COVID-19 would shut down entire university campuses, and we do not know what environmental and social changes may occur in the future. Going forward, every one of us must navigate uncharted territory.
With its wide-ranging perspectives on the environment, society, and humanity itself, I believe that the education and research at the Faculty of Letters can be put to great use in grappling with rapidly changing and fluid trends in society and around the world. An attitude of tolerance and respect for our differences across peoples and societies must form the foundations for building new bridges to unprecedented areas of study. The aim of studying at the Faculty of Letters is not to acquire career-oriented knowledge and technical skills. Our academic faculty and students work together to explore the essence of what it means to be human, what it means to have culture, what it means to be a part of society. And in doing so, the Keio University Faculty of Letters aims to be a modern-day Republic of Letters.